Suzanne Portnoy
The Butcher, The Baker, The Candlestick Maker
The bestselling pioneer of the 'erotic memoir'
After losing her virginity to a stagehand she meets on a school field trip to the theatre, Suzanne takes up with a succession of lovers, from punk rockers to university boys to personal-ad Romeos, before settling down with a dashing man who turns out to be more interested in his career than in sex.Ten frustrating years later, a chance meeting on the internet with an American 3,000 miles away dooms her marriage, but helps Suzanne regain her confidence and sparks a journey of self-discovery that is anything but typical.
"explicit … an erotic adventuress who refuses to allow her sexuality to be caged by society's conventions" – The Observer"naughty, open and true" – More Magazine"intelligently written and brutally honest" – Metro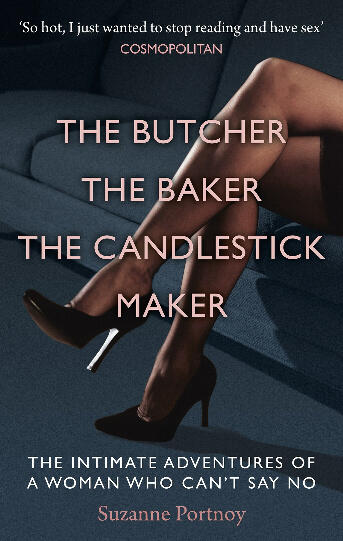 Who is Suzanne?
There has never been a better time to be a woman in your forties and a new voracious breed of post-divorce, post-kids women are reclaiming their sexuality and living life to the full.As the UK's Sunday Times put it, think Kim Cattrall, Teri Hatcher, Kelly Hoppen. These are the women in the limelight but actually there are many more of them, up and down the country. They used to be called 'The Invisible Women,' but now they have revisited the sexual territory of their youth and they are out there hunting.Suzanne Portnoy was once such woman. A Jewish New Yorker, now settled in London, her UK bestseller, 'The Butcher, the Baker, The Candlestick Maker' came out in 2006 and immediately became a bestseller. Now it's being adapted for TV. Stay tuned!Suzanne Portnoy has been a publicist for twenty years. Divorced with grown-up sons, she was born in the States and now lives in London. Saucy, attractive, and finally her dream size 12 after 20 years of indifferent dieting, she is happily non-monogamous.
For more information…
….or to receive a review copy the Black Lace press office on 020 7840 8373 orTo contact Suzanne Portnoy follow her on Twitter or email suzanneportnoy@hotmail.co.uk